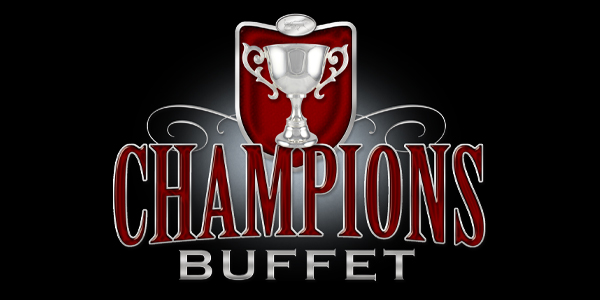 From soups to salads to a variety of sides, entrees and carved meats including seasonal and regional cuisines from around the world, plus soft serve ice cream and fabulous desserts. You won't want to miss our buffet. Dinner hours include two carved meats and a pasta station* for an added treat. Beer, wine and drinks are available for purchase. Enjoy!
*Pasta Station available Friday-Sunday, dinner only.
Located on the Casino floor.
Tuesday – Thursday
11:30am-8pm, $7.77 (closed 3pm-4pm)
Friday
Lunch: 11:30am-3pm, $7.77
Steak & Seafood Dinner: 4pm-9:30pm, $18.99
Saturday
Lunch: 11am-3pm, $10.99 (closed 3pm-4pm)
Steak & Seafood Dinner: 4pm-9:30pm, $18.99
Sunday
Brunch: 11am – 2pm, $11.99 (closed 2pm-3pm)
Dinner: 3pm-8pm, $14.99
Excludes Event and Holiday Buffets. Must be a Player's Club member. Please show valid I.D.
Additional $2 added for non club members
Children 5-10: $7.77 Tuesday-Friday Lunch, $7.99 Friday, Saturday & Sunday Dinner.
Under 5 Free.
*Buffet items subject to change.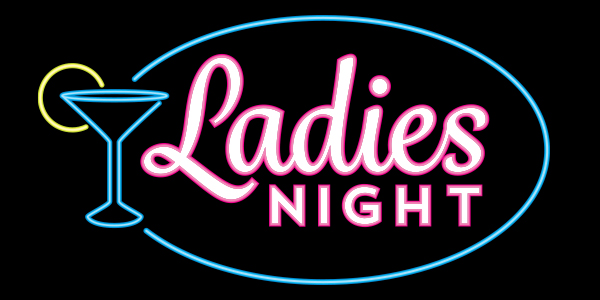 Ladies Night – Thursdays
$5 Dinner Buffet for Ladies.
4 Lucky Ladies chosen by Hot Seat every hour from 4pm to 8pm:
– Win $50 free play each
$3 White Claws, Mighty Swells and Clubtails* at Ring Eyed Pete's or the casino floor from 4pm to close.
Must be a Vernon Rewards member to receive discounted buffet price and to be eligible for hot seat drawings. *Flavor availability may vary.
Ladies Night
Promotion Period:
Thursdays in January 2020
Hot Seat Drawing Times:
4p, 5p, 6p, 7p, and 8p
Description of Promotion:
On Thursdays in January, ladies that are members of the Players Club will be eligible for the following:
– $5 Dinner Buffet at Champions Buffet (during dinner service hours only)
– Hot Seat Drawings every hour from 4pm to 8pm (four winners each hour)
– $3 drink specials on the casino floor at Ring Eyed Pete's (White Claw, Mighty Swell, and Clubtails drinks only)
Hot Seat Drawing Method:
All drawings will be conducted using the Hot Seat Random Winner function in CMP (Casino Marketplace).
Hot Seat Drawing Details:
Drawings will take place every hour from 4pm to 8pm. At each drawing time four ladies will be chosen by random hot seat to win $50 in free play each. To be eligible for selection, eligible guests must be a member of the Players Club and be actively gaming with a Players Card (Vernon Rewards) at the time of each hot seat drawing. Eligible guests may win up to three times per night. If during any drawing a person is selected a fourth or fifth time, their win will be deemed as ineligible (since they've already won the maximum of three times) and another winner will be selected.
Once the four winners for each hour have been selected, they will be announced and given three minutes to report to the Players Club to be verified and to receive their $50 free play prize. If at any drawing time a selected winner fails to report within the allotted three minutes or they are not able to be properly verified, the prize will be forfeited and there will not be another winner selected.
GENERAL PROMOTION RULES
• Must be 18 years of age or older.
• Guests must be a female member of the Players Club and abide by all club rules to be eligible for hot seat drawings. Use of Players Card is required in order to be eligible for selection at each drawing time.
• In order to receive the discounted dinner buffet price of $5.00, the female guest must be a member of the Players Club and provide their players card at the time of purchase. Special pricing is for cash or credit/debit purchase only. Other coupons or discounts (including card level based discounts) may not be applied to the $5 price. If purchasing the buffet through use of players card points, the regular price of the buffet will be charged. Special pricing is per eligible club member only.
• Guests do not need to be members of the players club to purchase the $3.00 White Claws, Mighty Swells or Clubtails on the Casino Floor or at Ring Eyed Pete's. Ladies Night drink specials are only available for ladies.
• Excluded/evicted patrons cannot participate in promotions.
• Vernon Downs may disqualify any participant for any prize based upon fraud, dishonesty, violation of these official rules or other misconduct whether or not related to this promotion.
• Must be present to collect prize at drawing time when name is announced.
• Eligible guests may win up to three times during the hot seat drawings each Thursday.
• It is the responsibility of each participant to be aware of casino announcements for the promotion.
• Prizes are non-transferrable.
• All hot seat drawing prizes will be paid as free play. Free play prizes may not be converted to cash.
• Must present a valid State/Federal valid photo identification before physical, monetary, or free play prize, award, or offer can be claimed. Acceptable forms of IDs are listed at the Players Club. Failure to provide proper identification will result in forfeiture of any prize won.
• By participating in the promotion, each participant agrees to and acknowledges that they will abide by the official rules, regulations and procedures of the promotion.
• Taxes are the sole responsibility of the Club Member/Winner.
• Each winner shall hold harmless Tioga Downs, Vernon Downs, and any affiliated company, the State of New York, and any agents, officers, employees against any damage, loss, claim or liability arising from participation in this promotion.
• Each prize winner grants the right to use their name, city of residence, and photograph in order to publicize their winnings. Street address and phone numbers will not be released for publicity.
• Any valuation of the prize(s) stated awarded in this contest is based on available information provided to Tioga Downs/Vernon Downs from the provider, and the value of any prize awarded to a winner will be reported for tax purposes as required by law.
• Each winner is solely responsible for reporting and paying any and all applicable taxes related to the prize(s) and paying any expenses associated with any prize which are not specifically provided for in the official rules. Each winner must provide the Company with valid identification and a valid taxpayer identification number or social security number before any prize will be awarded. Any person winning over $600 in prizes from the Company will receive an appropriate IRS form 1099 at the end of the calendar year and a copy of such form will be filed with the IRS.
• All Lottery Key License holders and employees of the NY State Gaming Commission, Vernon Downs, Tioga Downs, New York Lottery, Bally Technologies, Spielo, IGT, SDG and/or Multimedia Games and/or any subsidiaries or affiliates, their spouses, siblings, children and/or other dependents living in the same residence are not eligible to win. Offer void where prohibited or restricted.
• If for any reason this promotion is not capable of running as planned, including infection by computer virus, bugs, tampering, unauthorized intervention, fraud, technical failures, or any other causes within or beyond the control of Vernon Downs, which corrupt or affect the administration, security, fairness, integrity, or proper conduct of this promotion – Vernon Downs reserves the right at its sole discretion to cancel, terminate, modify or suspend the promotion.
• All aspects of this and any promotion, including guest participation, are valid only during the prescribed times of the promotion.
• Management reserves the right to cancel, change or modify the promotion without notice. In the event of a dispute, decisions of management will be final.
• For names of winners, available at the conclusion of the promotion, send a stamped, self-addressed envelope to: Marketing Department, Vernon Downs Racetrack LLC, 4229 Stuhlman Rd, Vernon, NY, 13476.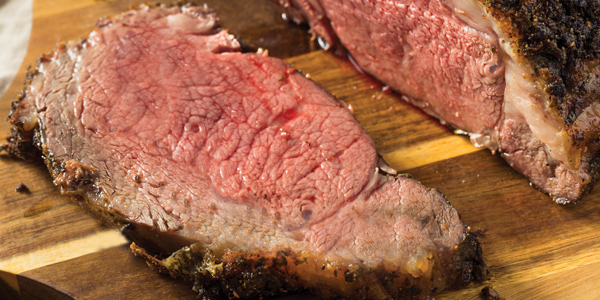 Valentine's Day Buffet
Friday, February 14, 11:30am-9:30pm (Closed 3pm-4pm)
$23 – Featuring Carved Prime Rib.
Valentine's Day Buffet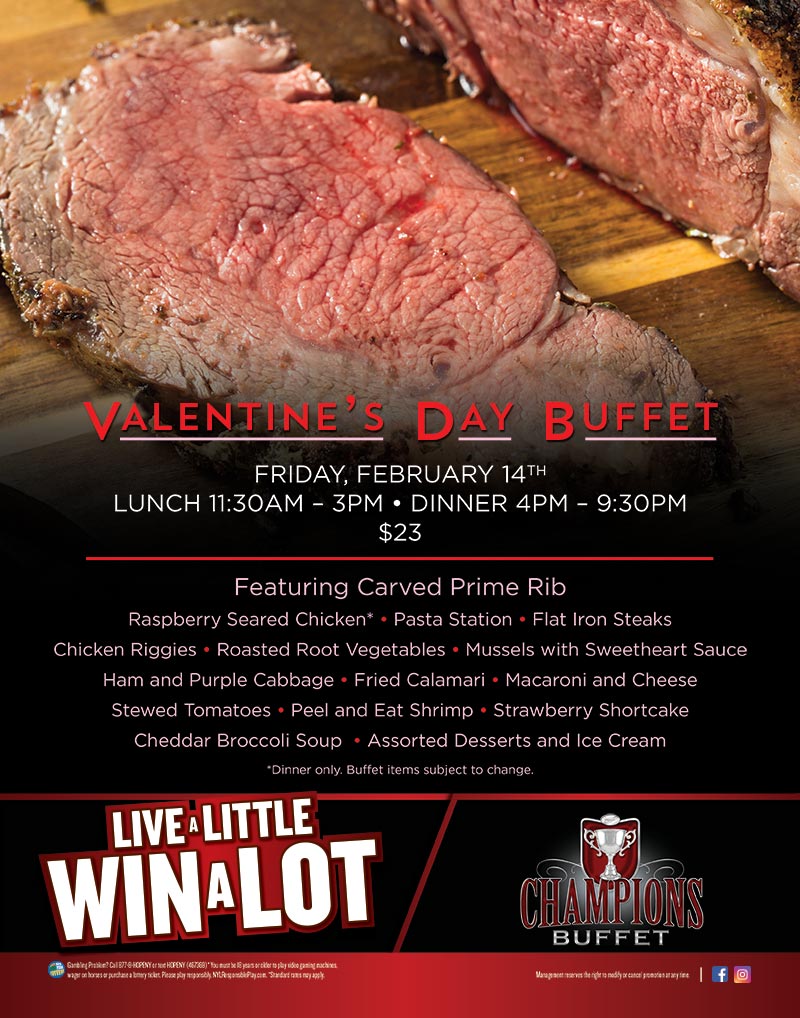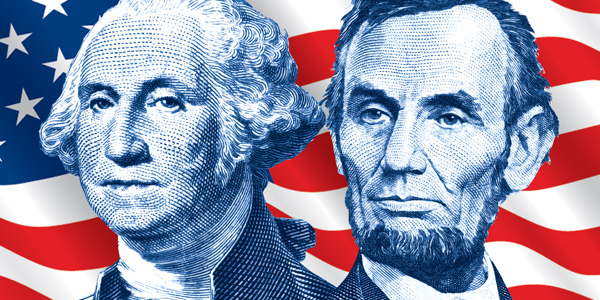 Presidents' Day $5 Buffet
Monday, February 17, 11:30am-8pm (Closed 3pm-4pm)
Featuring Carved Marinated Pork Loin.
Presidents' Day Buffet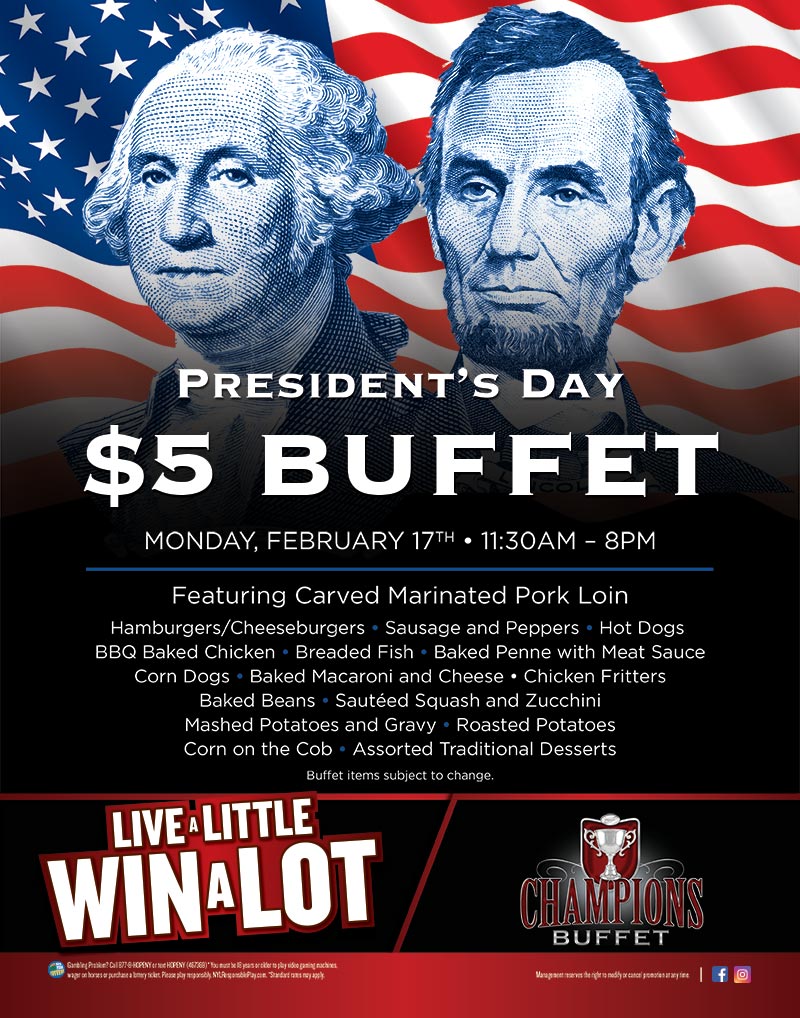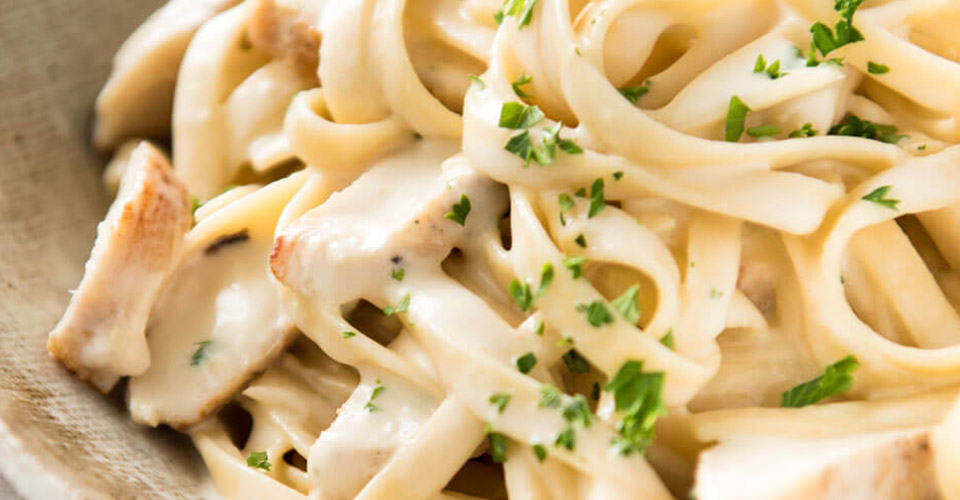 $7.77 Buffet*
Lunch & Dinner, Tuesday – Thursday
Lunch Friday
*With Card, $9.77 without card. Excludes Holiday Buffets.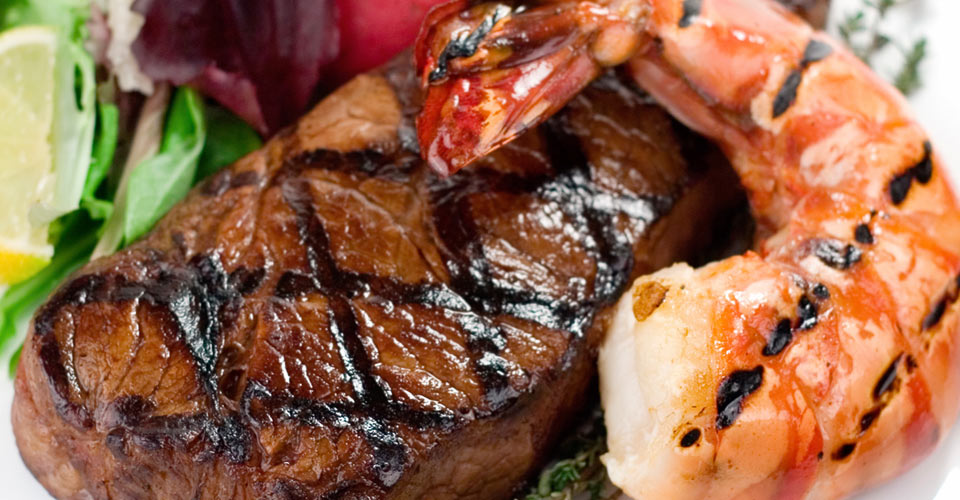 Friday & Saturday: Steak & Seafood
Fridays & Saturdays, 4pm-9:30pm
Adults $18.99 • Children 5-10 $7.99 • Under 5 Free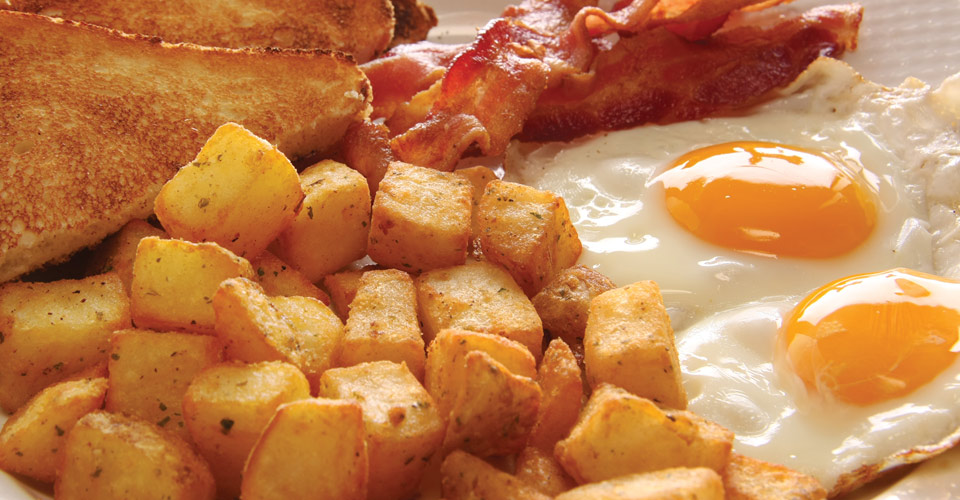 Sunday Brunch
Featuring: Utica Greens, Hash Browns, French Toast Sticks, Sausage Links, Bacon, Scrambled Eggs, Ham & Cheese Eggs, Sausage Gravy, Eggs Benedict, Corned Beef Hash, Hollandaise Sauce, Baked Ziti, Fried Chicken, Chef Choice Mixed Vegetables, Mashed Potatoes & Gravy.
11am-2pm
Adults $11.99 • Children 5-10 $7.99 • Under 5 Free