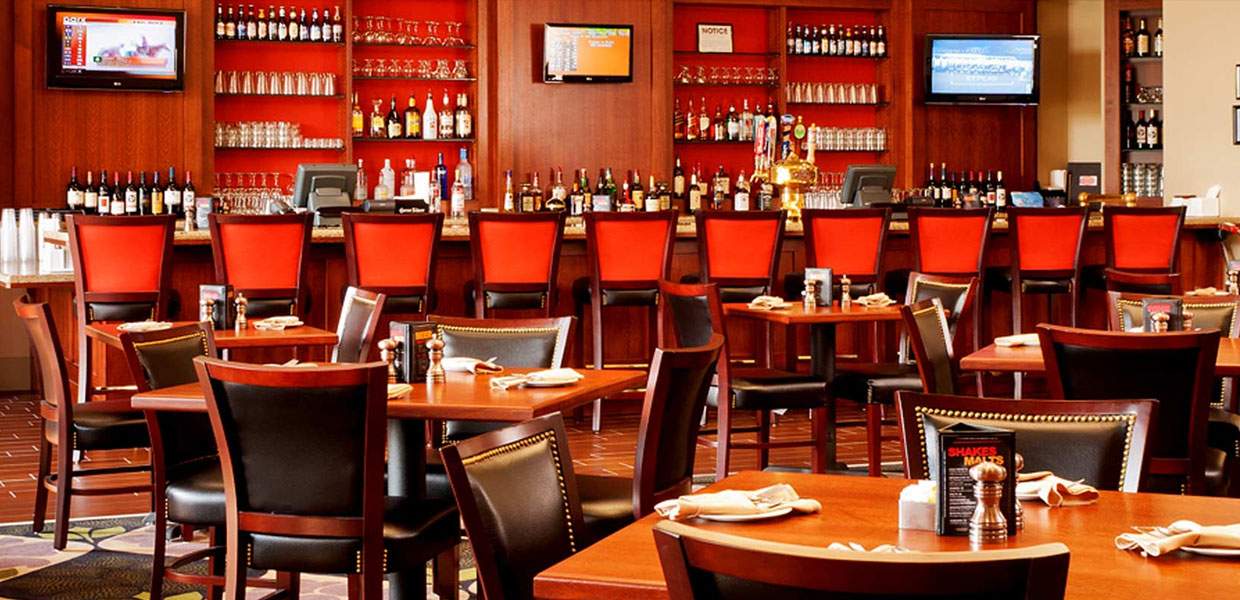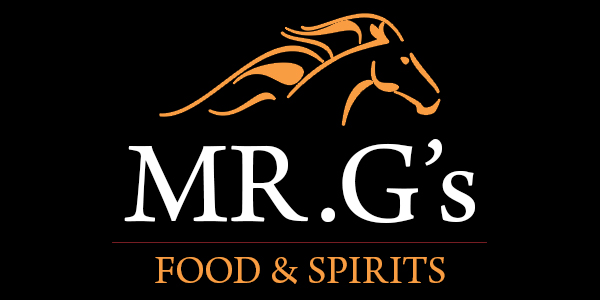 Featuring overstuffed sandwiches, salads and comfort food. Big burgers, and old style soda fountain drinks.
Best food by two lengths.
Hours:
Thursday – Saturday: 5pm – 9pm
DINNER
STARTERS
FRIED CALAMARI – Lightly dredged Tubes, Tentacles, and Jalapenos served with House Marinara Sauce, sprinkled with Fresh Parsley, Parmesan, and Lemon Wedge $11
BAKED BRIE – Chargrilled Mini Brie Wheel Topped with Dipping Bread. Caprese Style- with Roasted Tomatoes, Drizzled with Basil Oil and Balsamic or Berry Style- House Made Black Berry Coulis $12
LEMON GARLIC SHRIMP – Sautéed Shrimp with Tomatoes, Basil, and Spinach in a Garlic White Wine
Sauce, over Crostini, finished with fresh Lemon $12
ZIO GURAL'S MEATBALLS – Three Old World Meatballs, Hand-rolled with Fresh Ground Pork, Beef and Veal. Served over Marinara Sauce, Topped with Shaved Parmesan $11
TEMPURA BASKET – Battered Vegetable Medley, Fried Golden Brown, Garnished with a Teriyaki Aioli $11
FRENCH ONION SOUP – Caramelized Onions Simmered in a Rich Beef and Red Wine Jus, Fresh Herbs, and Garlic, Topped with French Bread Crostini and Swiss $6
SALAD
HOUSE – Mixed Greens, Tomatoes, Cucumbers, Onions and House Made Croutons with Choice of Dressing $6
WEDGE – Iceberg Wedge, Buttermilk Bleu Cheese Dressing, Crumbled Bacon, and Diced Tomatoes $9
CAESAR – Fresh Romaine, Parmesan and Asiago Cheese, House-made Croutons, Tossed with Creamy Caesar Dressing $10
SANDWICHES
Mr. G'S BURGER – 8 oz. Black Angus Burger Topped with NY Sharp Cheddar, Bacon, Pepperoncini, Lettuce and Tomato, Served on a Flour-dusted Kaiser Roll with Potato Wedges $14
MUSHROOM SWISS BURGER– 8 oz. Black Angus Burger topped with Swiss Cheese, Sauteed Exotic Mushrooms, Lettuce, and Tomato. Served on a Flour-Dusted Kaiser Roll with Potato Wedges $14
CRAB CAKE SANDWICH– House Made Maryland-Style Crab Cake with G's Sauce, Lettuce and Tomato, served
on a Flour-Dusted Kaiser Roll, with Potato Wedges $18
MARINATED CHICKEN SANDWICH – Marinated Grilled Chicken Breast with Brie, Fresh Bruschetta, and Balsamic Aioli, Served on a Flour-dusted Kaiser Roll with Potato Wedges $13
CHEF'S FAVE – Warm Pastrami Stacked High on Marble Rye with Brown Spicy Mustard $13
PASTA
JEFFREY'S PASTA – Sautéed Shrimp, Scallops, and Broccoli in a Garlic Herb Butter and White Wine Sauce
Tossed with Farfalle Pasta $18
ALFREDO PRIMAVERA – Broccoli, Carrots, Tomatoes, Mushrooms, Cauliflower, and White Onions Tossed
with Fettuccini in a Creamy Alfredo Sauce $14
CAPELLINI AND MEATBALLS – Old World Meatballs, Hand-rolled with Fresh Ground Pork, Beef and Veal Tossed with House Marinara and Capellini Pasta $14
SPINACH PESTO – Spinach and Walnut Pesto, Tossed with Roasted Tomatoes, Cavatappi Pasta, Black Olives and Feta Cheese, Topped with Marinated Grilled Chicken Breast $16
SEAFOOD – Served with a Choice of Two Sides
CRABBY HADDOCK – Crab Stuffed Haddock Finished with a Garlic Citrus Butter Sauce $23
CHEF'S CRISPY SCALLOP – Pan-seared Scallops Topped with a Creamy Piccata Sauce $28
FISH FRY – Fresh Beer-battered Haddock Fried Golden Brown Served with Coleslaw and Tartar Sauce (Also Served Broiled or Lightly Breaded) $14
SHRIMP BASKET – Large Shrimp Dipped in Tempura Batter, Fried Golden Brown, Served with Tempura Vegetables, and a side of Teriyaki Aioli $25
ENTREES – Served with a Choice of Two Sides
12 oz FRENCH CUT PORK CHOP – Charbroiled Pork Chop Topped with Garlic Compound Butter $18
12 oz NEW YORK STRIP – Choice USDA Strip Steak, Charbroiled with our House Seasoning $30
10 oz FILET MIGNON– Choice USDA Beef Tenderloin Seasoned and Finished on the Chargrill $38
JEFFREY'S MEDALLIONS – Two 5oz Filet Medallions Seasoned and Charbroiled Served over House Mashed Potatoes, Topped with a Garlic Mushroom Stilton Cream Sauce $40
CHICKEN FRANCAISE – Tenderized Chicken Breast Dipped in Egg, Sautéed with Lemon, Butter, Garlic and White Wine $16
VERNON CHICKEN – Marinated Grilled Chicken Breast, Topped with Melted Gouda and Wild Mushroom
Ragu $18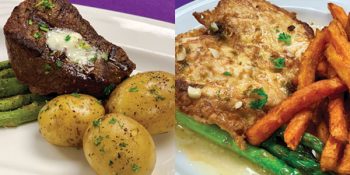 Buy One Entree, Get One Free
Thursdays in April
For our Vernon Rewards Club Members
Dine in only. Must show Vernon Rewards card to receive special offer. May not be combined with any other food credit, offer, or discount. Excludes alcohol.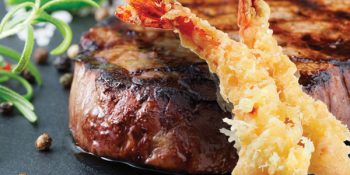 April Springtime Specials
Thursdays – Saturdays in April
5pm-9pm
GRILLED STUFFED PORKLOIN CHOP Cranberry and walnut stuffed 12oz. French Cut pork chop grilled and topped with a bourbon mushroom sauce. Served with house mashed potatoes. $21
GRILLED SALMON Topped with roasted peaches, and Balsamic glaze, served over rice pilaf. $25
SURF AND TURF 8oz. Sirloin steak and Shrimp Tempura, served over creamy risotto and topped with a citrus garlic compound butter. $32
All meals come with a side salad, vegetable of the day, rolls and butter.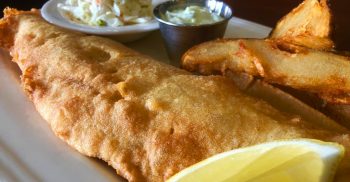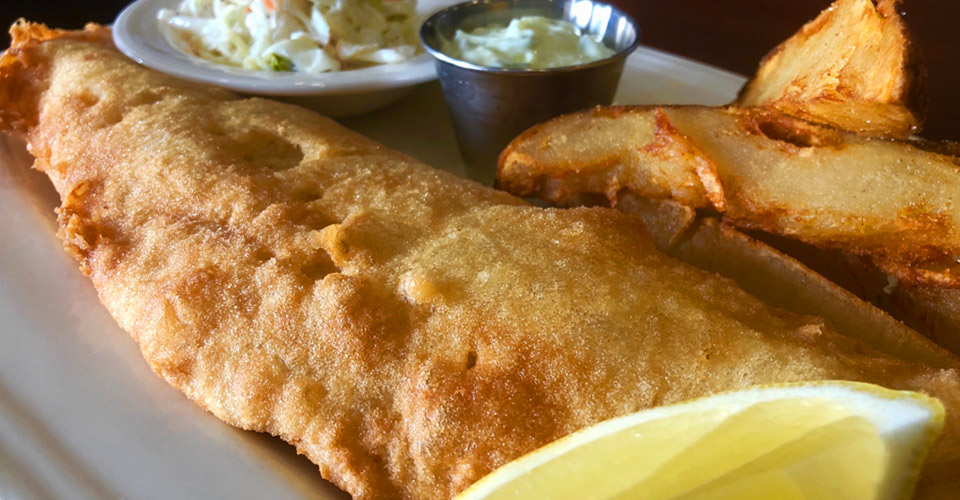 $13 Beer Battered Haddock
Also available Thursday & Saturday for $14 during regular business hours.