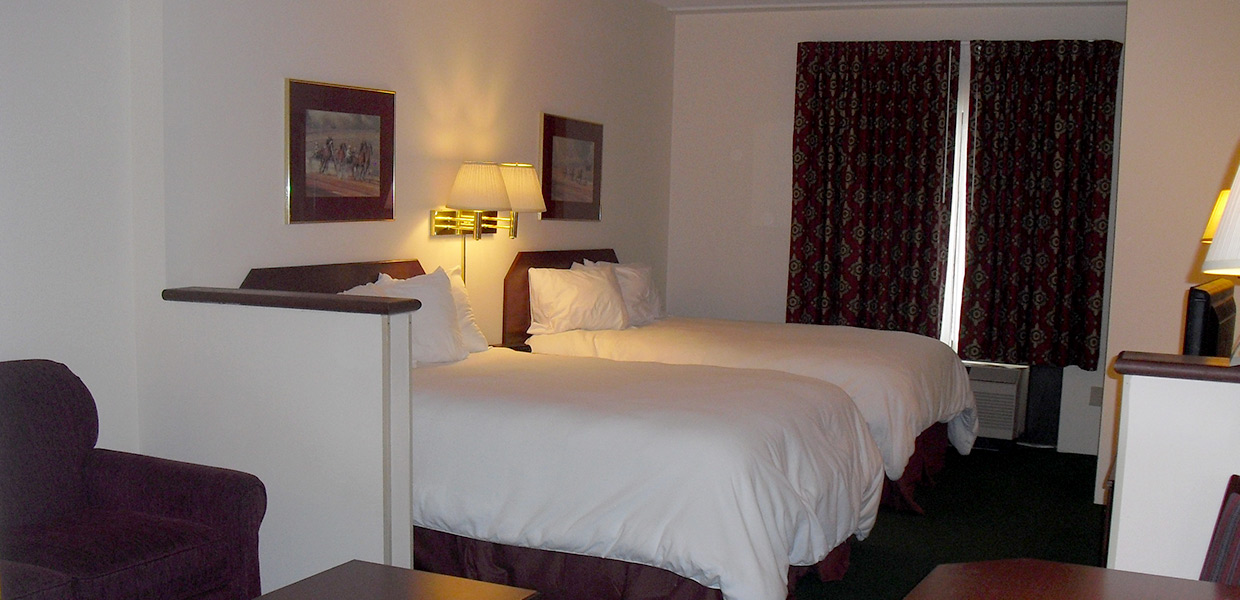 Accommodations at Vernon Downs Casino Hotel are spacious and comfortable, with many facing historic Vernon Downs Racing Track for panoramic views. The hotel is 100% non-smoking and features flat screen televisions with complimentary HBO, an in-room coffee maker, microwave and refrigerator. In addition, guests enjoy complimentary continental breakfast, Monday through Friday.
Accommodations features:
Flat Screen Television
Microwave
Refrigerator
Coffee Maker
Alarm Clock/Radio
Ironing Board and Iron
Hair Dryer
Deluxe Jacuzzi Suites
ADA accessible accommodations available on request.
Hotel Policies:
Check in after 3:00 p.m.
Check out by 11:00 a.m.
Must be 18 years or older to check in
Credit Card required
Cancellation policy – 24 hours prior to day of arrival
ADA Property features:
Accessible Public Entrance
Accessible Business Center
Accessible Exercise Facility
Accessible Hotel Restaurants
Accessible route from the accessible public entrance to the accessible guestrooms
Accessible route from the accessible public entrance to the registration area
Accessible route from the hotel's accessible entrance to the meeting room/ballroom area
Accessible route from the hotel's accessible public entrance to restaurants
Accessible route from the hotel's accessible public entrance to the business center
Accessible route from the hotel's accessible public entrance to the exercise facilities
Accessible route from the hotel's accessible public entrance to the swimming pool
Service support animals welcome
Property has elevators
Accessible Power-Driven Mobility Devices (Scooters)
Accessible Wheelchairs
ADA Accessible Shuttle Buses
Accessible Public Restrooms on property
ADA Guest Room Features:
Accessible Guest Rooms have a (34-inch) wide opening
Closed captioning on Televisions
TTY for guest use with Bed Vibrations
Accessible Shower Chairs
Accessible Bathroom Vanity in guest rooms for disabled person height
Accessible Bathtub grab bars
Accessible Shower grab bars
Accessible Roll-in Shower
Lowered deadbolt in guest room for disabled person's height (3.5ft.)
Peephole in guest room for disabled person height (4.0 ft.)
ADA parking Features:
Accessible Parking Spaces for cars in the self-parking facility
Van-accessible parking in the self-parking facility