Points Multipliers, Seniors Day, Hot Seats and more. The games go on and on. Pick a day to play and you won't be disappointed at Vernon Downs Casino Hotel. We offer spectacular gaming promotions not only offering you a chance to win big money but you could also win, a TV, computer, even a brand new car! Stop by Vernon Downs Casino Hotel today and see what games you could be playing.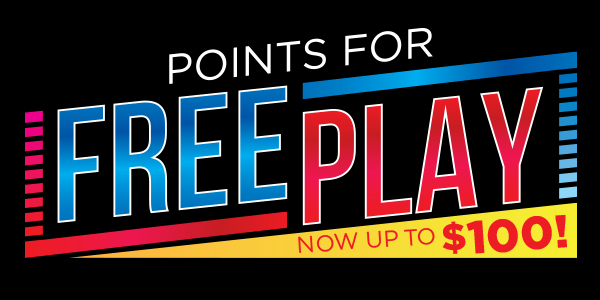 Points for Free Play
Mondays, Wednesdays and Fridays in September.
Visit us on Mondays, Wednesdays, and Fridays and redeem your points for Free Play!
Points may be redeemed in $10 increments from $10 to a maximum of $100 Free Play each day.
One points redemption for Free Play per Monday,Wednesday, or Friday per Rewards Club Member. Points will be deducted from account at the time of the redemption. Free Play vouchers valid for 7 days from the date of issuance. Lost, stolen, or expired vouchers will not be replaced. Valid ID required. All points redemptions for Free Play are final.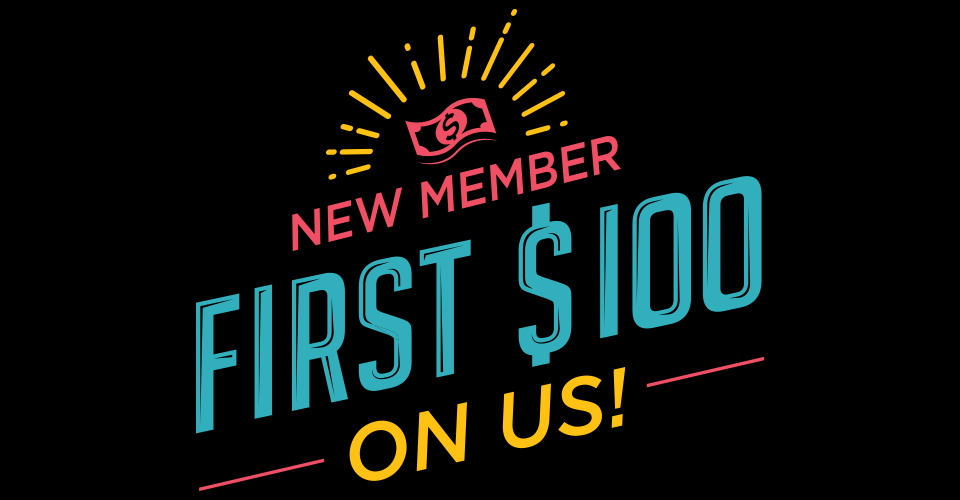 New Members: First $100 On Us!
Sign up today and become a member of our Rewards Club. We will match your losses on your first day of joining.*
*Its our No Loss Guarantee. Match not to exceed $100. Offers will be mailed after New Member sign up. Offers may vary. See Rewards Club for complete details and a list of rules.
New Members: First $100 On Us!
Promotion Period:
Every day in March 2020
Promotion Description:
New Players Club members that play at least $10 and lose at least $10 on the gaming day they signup will receive a free play bonus in the amount of the casino's win rounded to the nearest $5 not to exceed $100. New Members may also receive an offer dependent upon their recorded ADT should they show a "win" on the day of joining the club. New club members may also receive a food credit or free hotel offer in conjunction with the free play offer dependent upon play level.
Offer Details:
Players will be mailed their free play offer within two weeks of signing up for the Players Club. Only players reaching the minimum loss of $10 will be mailed an offer.
A New Member is defined as someone who has not had any recorded play or redemptions in the last three years or is a player that has never existed within the casino's marketing database.
GENERAL PROMOTION RULES
• Must be 18 years of age or older.
• Guests must be a new Players Club member in order to receive the loss match bonus in the mail.
• It is the responsibility of the guest, upon joining the Players Club, to ensure that a valid mailing address is provided in order to receive offers such as this.
• Use of Players Card is required and must be used and properly inserted while gaming in order register play on the player's tracking system.
• Excluded/evicted patrons cannot participate in promotions.
• Vernon Downs may disqualify any participant for any prize based upon fraud, dishonesty, violation of these official rules or other misconduct whether or not related to this promotion.
• Must be present to collect prize at drawing time when name is announced.
• It is the responsibility of each participant to be aware of casino announcements for any promotion.
• Free Play vouchers are non-replaceable and non-exchangeable.
• Must present a valid State/Federal valid photo identification before physical, monetary, or free play prize, award, or offer can be claimed and to join the Players Club.
• By participating in the promotion, each participant agrees to and acknowledges that they will abide by the official rules, regulations and procedures of the promotion.
• Taxes are the sole responsibility of the Club Member.
• Each winner shall hold harmless Tioga Downs, Vernon Downs, and any affiliated company, the State of New York, and any agents, officers, employees against any damage, loss, claim or liability arising from participation in this promotion.
• Each prize winner grants the right to use their name, city of residence, and photograph in order to publicize their winnings. Street address and phone numbers will not be released for publicity.
• Any valuation of the prize(s) stated awarded in this contest is based on available information provided to Tioga Downs/Vernon Downs from the provider, and the value of any prize awarded to a winner will be reported for tax purposes as required by law.
• Each winner is solely responsible for reporting and paying any and all applicable taxes related to the prize(s) and paying any expenses associated with any prize which are not specifically provided for in the official rules. Each winner must provide the Company with valid identification and a valid taxpayer identification number or social security number before any prize will be awarded. Any person winning over $600 in prizes from the Company will receive an appropriate IRS form 1099 at the end of the calendar year and a copy of such form will be filed with the IRS.
• All Lottery Key License holders and employees of the NY State Gaming Commission, Vernon Downs, Tioga Downs, New York Lottery, Bally Technologies, Spielo, IGT, SDG and/or Multimedia Games and/or any subsidiaries or affiliates, their spouses, siblings, children and/or other dependents living in the same residence are not eligible to win. Offer void where prohibited or restricted.
• If for any reason this promotion is not capable of running as planned, including infection by computer virus, bugs, tampering, unauthorized intervention, fraud, technical failures, or any other causes within or beyond the control of Vernon Downs, which corrupt or affect the administration, security, fairness, integrity, or proper conduct of this promotion – Vernon Downs reserves the right at its sole discretion to cancel, terminate, modify or suspend the promotion.
• Management reserves the right to cancel, change or modify the promotion without notice. In the event of a dispute, decisions of management will be final.
• For names of winners, available at the conclusion of the promotion, send a stamped, self-addressed envelope to: Marketing Department, Vernon Downs Racetrack LLC, 4229 Stuhlman Rd, Vernon, NY, 13476.